Most people seem to have a love-hate relationship with Monsoon; you eagerly await its arrival and cheekily join the orgy on your Facebook newsfeed which gets violated with update by every one of your four thousand friends experiencing extreme orgasms to the sights, sounds and smells of rain, and two days into the season, you can't wait for the dry spell to return and drain out all the water clogged roads between your work and home. But for what it's worth, this season is unique to our country, so unique that we have songs, traditions, festivals and even food dedicated to celebrate these few rainy weeks of the year.

In an effort to enjoy the best of the season, we list our top 10 monsoon culinary delights, which won't have you crossing the flooded hurdles to the closest gym.

1. Baked tortillas with mango salsa: Since the mango season is here, pick the firmer and slightly-less-ripe mangoes for a sweet and spicy salsa to go with any store bought baked tortilla chips. A mojito or a mint lemonade will be a great accompaniment to this appetizer.

Mix the below ingredients for Mango Salsa, which can be stored in fridge:
2 big mangoes (preferably Safeda or Banganpalli)
1 cup chopped cucumbers
1 cup chopped red and yellow bell peppers
½ cup chopped onion
1 small chopped green chili
½ cup chopped coriander
1/2 tbsp lime juice
Season with salt and pepper

2. Warm corn salad: Another great dip for your nachos is a warm corn salad, which can also be eaten on its own and is a healthy alternative to the buttery boiled corn in a cup sold in shopping malls.

Since corn is in abundance this season, you can give the same old "bhutta" a twist with some simple ingredients and serve a bowl of creamy but light corn salad. For this recipe, you will need to mix the below ingredients and serve fresh:

2 boiled corn of the cob
1 chopped onion
2 diced peppers (mix of red, yellow and green)
1 cup of cherry tomatoes (can also be replaced with diced regular tomatoes)
1 cup chopped avocado
½ cup diced raw mango (optional, if you're looking for a little tanginess)
1 cup chopped coriander
1 tbsp lime juice
1 tbsp extra virgin olive oil
Season with salt and pepper

3. Hot Cocoa: Monsoon is incomplete without having nursed a warm cup of hot chocolate under your duvet whilst watching late night TV or reading an old favourite. We suggest a quick home recipe instead of relying on the purple can of instant mix and we guarantee that this recipe will not only taste better, but also not leave you feeling guilty enough to starve the next day.

Bring 250 ml of skimmed milk to simmer.
Mix 50 gm of chopped or grated pieces high quality bitter chocolate into the milk. (preferably 70% cocoa)
Let the chocolate mix well into the milk.
Add brown sugar or honey as per your taste once the chocolate has evenly mixed.
Add a tiny pinch of salt to allow the cocoa flavor to come out better.
Serve in a cup with a pinch of cinnamon.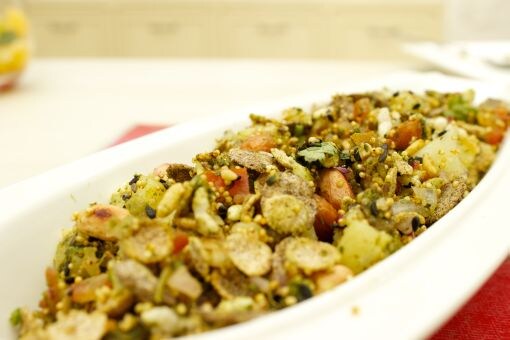 4. Bhel puri: Munching on some bhel puri is probably one of the best way to watch the raindrops fall from your living room. But instead of relying on your local sweet shop, try this healthy and Guilt Free recipe of mixed millet bhel purifor your next rainy evening indulgence: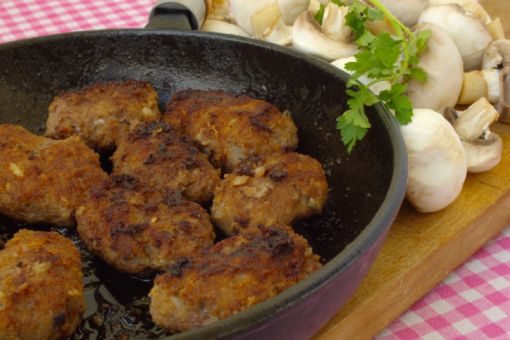 5. Kebabs: Instead of ordering from your trusted Pizza guy the next time you have friends over on a rainy night, prepare these easy to make healthy kebabs and wow them. The only downside to this is, that you might end up serving your friends at every get-together and turn them into kebab junkies. Maybe that could be your way of doing community service: turning Pizza junkies into healthy kebab lovers.






6. Momos: Taking lessons from our mountain-native-friends, we recommend momos as one of our top 10 meals for the rains. Cooking these warm, soft and juicy steamed dumplings can be a great way to engage the entire family or your friends on a weekend evening. In many hill stations where momos are eaten traditionally, the entire family helps out in preparing this dish, which is made in abundance. The leftover Chicken Momos are fried and served as a snack the next day.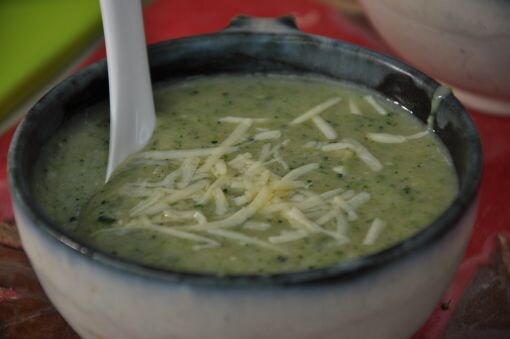 7. Soup: A warm bowl of Guilt Free Chilli or Broccoli and Cheddar Soup served with a warm whole-wheat toast is a great meal for weekday evenings when you just want to curl up in bed and watch your favourite prime-time show. These low-fat recipes will allow you to go for doubles and even save up some for lunch at work, the next day. We highly recommend actor Imran Khan's Chilli Con Carne

8. Kachori & Samosa: No gourmet food can replace the joy that comes from biting into a hot samosa or kachori on a cold rainy evening. Now you don't have to stop at just two bites fearing the potential calorie damage these fried treats are capable of; try a baked kachori and baked paneer samosa instead. You can even replace the traditional aloo filling with a spicy soya bhurji mixture in your samosa.

9. Muffin & Pie: Warm fluffy muffin and decadent pie is a great way to end your meal in any weather. They taste even better when the weather outside asks for a warm comforting dessert. A bran whole wheat muffin or a low-fatblueberry pie will not leave you feeling guilty.

10. Coffee: Because Monsoon lasts only a few weeks, you might want to stay up till late to enjoy as much of the cool Monsoon breeze as you can. And what better way to help you stay up late than sipping on a cup of coffee. Instead of the same old instant coffee, try spiced coffee or cappuccino or the traditional filter coffee to keep you warm during those cool after-dinner evenings on the terrace.